Engineers answer a call of help from Hubei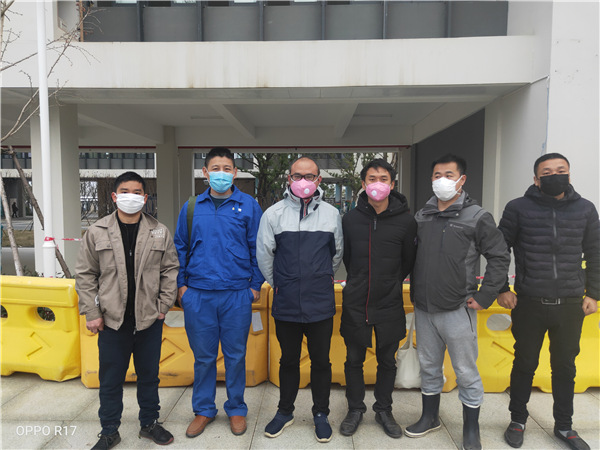 Three engineers from Hengyang, Hunan province, spared no effort to support the project to build Leishenshan Hospital, a makeshift facility to treat coronavirus patients in Wuhan, Hubei province, from Jan 31 to Feb 5.
Liu Wenhong, a communications engineer at a Hengyang company, was full of zeal after receiving instructions from the hospital's construction command center on Jan 30 to recruit volunteers to install network lines.
Liu contacted his company colleagues Zhu Wei and Wang Hui immediately and told them that there was a shortage of communications engineers at the construction site. He says he asked them: "Will you join me?"
Liu encouraged them to echo his call to others to help fight the coronavirus epidemic in Wuhan, the epicenter of the outbreak. His call for mobilization received a positive response from his peers, despite the voluntary services being unpaid.
Liu left his son with his parents, and began the journey north the next day, together with the other two young men. Upon their arrival in Wuhan on the evening of Jan 31, Zhu, who had kept his travel plans from his family, got a phone call from his mother. He told her that supporting Wuhan was significant and that the safety of volunteers at the forefront of the effort would be paramount.
The construction of the hospital needed to be accelerated for the treatment of patients, Zhu told his mother.
Liu, Zhu and Wang, along with three other people, were put in charge of the installation of equipment and cables for the hospital's telephone and television systems across 52 wards. They needed to carry heavy cables up and down the stairs, and they usually worked overtime.
"We saw trucks loaded with medical donations drive into the construction site every day. I was constantly surprised by the speed of the hospital construction, which was amazing," Liu says.
During their first five days at the construction site, Liu's team worked around the clock to complete the task on time. They had laid more than 20,000 meters of cable in total and installed over 50 sets of equipment.
"We had no time for showers, even though our shirts were soaked in sweat after a whole day's work," Liu adds.
Wang says, "Though we were quite tired, we felt proud and satisfied with our work."
On Feb 5, the three engineers drove back to Hengyang and are now under medical observation at a designated hotel.
Leishenshan Hospital became operational on Feb 8. The hospital, which is able to accommodate a total of 1,600 patients, is already playing a vital role in controlling the spread of the epidemic.
Qin Jirong contributed to the story.